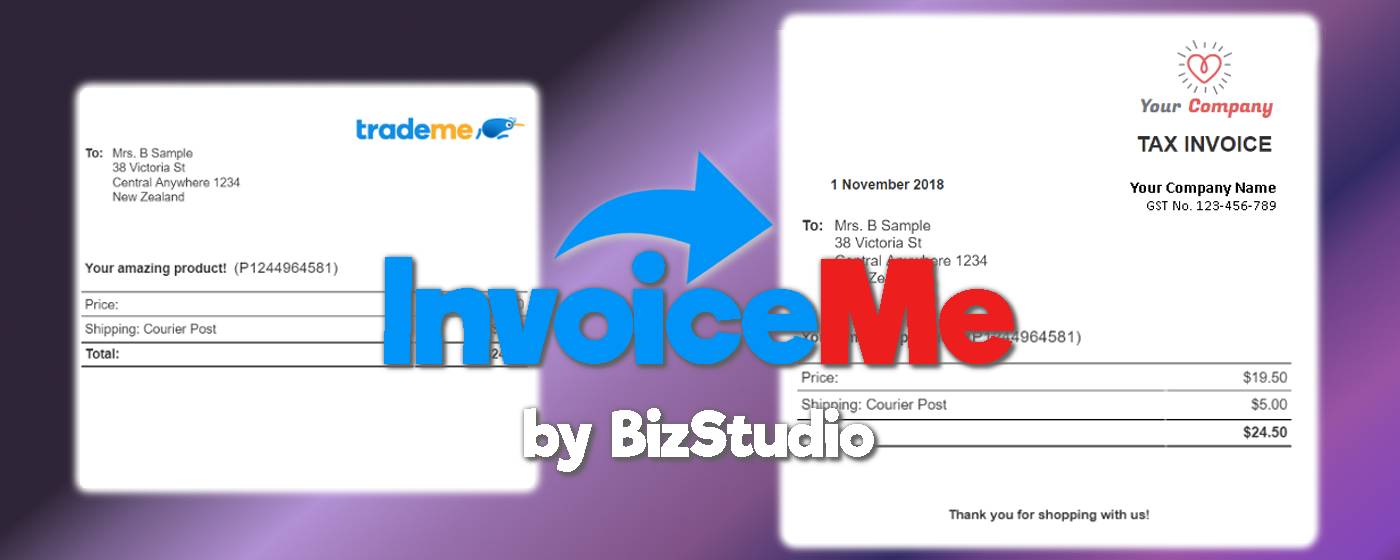 InvoiceMe by BizStudio is another simple solution to save you time and hassle with Trademe.  It's too easy and a complete 'no-brainer'. In just 5 minutes you'll have a simple branded packing slip or invoice for every Trademe sale.
For only NZ$35, it's an add-on you'll never regret. A simple one-off charge and access to all updates forever.  
Compliant Invoices? No Problem
Turn Trademe packing slips, into compliant invoices – with NO effort at all!
Trademe provides packing slips that make it easy for sellers to pack and ship products.  However, if someone requests a tax invoice, you have to do a load of extra work to create a tax invoice yourself.
With InvoiceMe, every packing slip will automatically be converted to show your details, your logo, the current date and of course the required words 'Tax Invoice'.  The unique Trademe auction code meets the requirement for a unique invoice number.
What if I change the Business name or logo?
InvoiceMe allows endless changing of options – change all details and logo at any time.  1 or 2 minutes should see you sorted.
If you get stuck, just get in touch – we'll help you out.
Get started now and save yourself time and hassle with every Trademe sale.
Everyone in business and selling on Trademe needs InvoiceMe